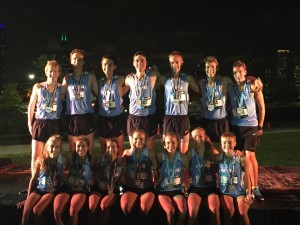 The Geneva Varsity Boys and Girls teams competed in the Nike Northside/Southside Challenge on Wednesday, 10/7/2015.  The event was held at Northerly Island Park in Chicago.
The Geneva Girls team won FIRST PLACE with McKenzie Altmayer finishing in 1st place and Sophia McDonnel in 3rd.
The Geneva Boys team also won FIRST PLACE with Tyler Dau finishing in 3rd, Brian Caskey in 5th and Geneva placing five runners in the top-10.
The Chicago crowds, parents, athletes and coaches in attendance certainly got used to seeing GVXC on the podium!  Congratulations to the entire team!!